meeri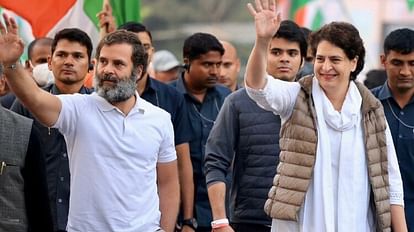 Rahul Gandhi and Priyanka Gandhi
– Photo: Social media
Expansion
There are many kinds of speculations going on in Uttar Pradesh regarding the Rae Bareli and Amethi Lok Sabha seats, which are considered to belong to the Gandhi-Nehru family. Will Sonia Gandhi contest from Rae Bareli or not? What decision will Rahul take for Amethi? If party officials are to be believed, then both the seats will be retained by the Gandhi family.
Priyanka will try her luck from Rae Bareli if Sonia Gandhi does not compete. Rahul Gandhi's exit from Amethi is also considered almost certain. Rahul's defeat from Amethi in the 2019 Lok Sabha elections and Sonia Gandhi's statement at the Congress session in Raipur have intensified the discussions on these seats.
At the recently held Raipur session, Sonia said – Bharat Jodo Yatra can be the last stop of my political connections. Except for the 1977, 1996 and 1998 Lok Sabha elections, the Congress won from Rae Bareli in all the remaining elections.
Feroze Gandhi, Indira Gandhi, Arun Nehru and Sheila Kaul of the Gandhi-Nehru family represented Rae Bareli several times in the Lok Sabha. Sonia Gandhi is the only MP from here since 2004. The Congress is at its worst phase in UP since 1977, yet the people of Rae Barili have not left behind the support of the Gandhi family in the 2019 elections.
,