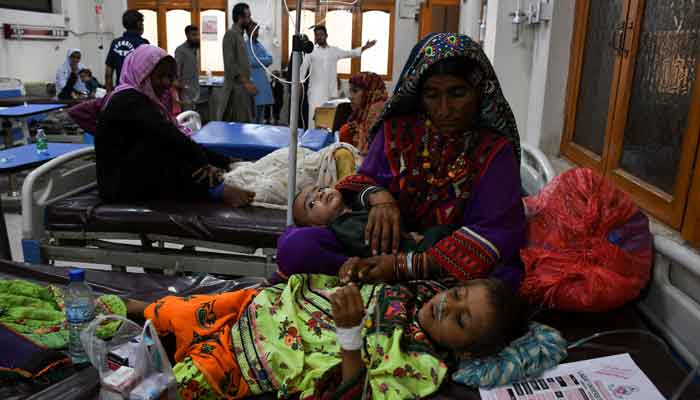 Instead of alleviating the problems of the flood victims of Sindh and Balochistan, they are increasing day by day, the victims are stuck in epidemic diseases and there is also a shortage of doctors in the hospitals.
The flood victims of Naseerabad district in Balochistan are suffering from various epidemic diseases including gastroenteritis and malaria, more than 2000 patients come to the hospital of the district headquarters every day, but no doctor is available, so someone is worried about medicine, while the malaria vaccine is available in the hospital also does not exist.
On the other hand, due to flooding and non-discharge of rainwater in Sindh, the diseases have increased, 3 more people have died from gastroenteritis, malaria and other diseases in Dadu, which has increased the number of deaths in the district until 23.
The number of patients in Dadu's government and private hospitals has been recorded at about 8,000, with lakhs of people waiting for help under the open sky at Dadu's Rescue Dam, Supreo Dam and Main Nara Valley Drain.
On the other hand, hundreds of villages of Kachhu still have no ground connection after 42 days of Juhi, while electricity in Khairpur Nathan Shah, Faridabad and Bhan Saeedabad has not been restored even after 21 days.
Heavy machinery has arrived to drain the water from the ring binder area of ​​Bhan Saeedabad, the lattice station, while a second cut has also been installed in the Indus Link Canal to drain the water.
.