Chandigarh- The central intelligence agencies have twice expressed concern about the gang war in Punjab and at the same time the DGP of Punjab has also warned about it. Even after this, the Punjab Police is also looking fully alert. However, another threatening post by the gangsters on social media can be seen.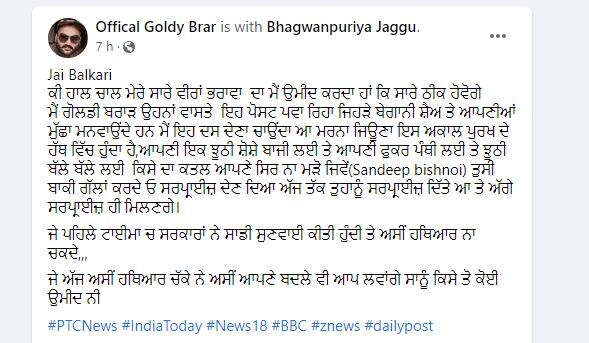 In the latest case, once again, Devinder Bambiha Group has challenged Goldie Brar by putting a post on social media. It is written in the post that we know very well about you what kind of person you are. You lure the sons of poor families to you and later do not even take any essence of their families. You have gone to Canada and become a big gangster. Everyone in Chandigarh knows about you. You read the comments and see what kind of insults you get. But don't worry, this time we will beat you and get the post. Then we will tell you to wait and watch. Don't worry you will find out soon. The rest is written in it.

Goldie Brar has posted in response to this. This post comes a little after the Bambiha group's post.- How are you all my brave brothers I hope you are all well. I'm Goldi Brar posting this post for those who decorate their mustaches with foreign things. Don't kill someone like (Sandeep Bishnoi) you were talking about the rest of the day.
Published by:Ashish Sharma
First published:
Breaking news in Punjabi first on News18 Punjabi. Latest news, live update news, read most reliable Punjabi news on website News18 Punjabi.
.