meeri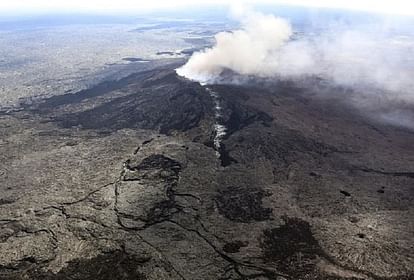 code image
– Photo: Social media
Expansion
Indonesia's Mount Merapi, one of the world's most active volcanoes, erupted on Saturday. As a result, smoke and ash spread across the villages and roads from the surrounding area. A report by the Merapi Volcano Observatory estimated that the ash plume reached 9,600 feet (3,000 meters) above the summit.
Images broadcast on local television showed houses and streets covered in ash in a village near the volcano on the island of Java, near the Indonesian capital Jakarta. Abdul Muhri, a spokesman for the National Disaster Management Agency, said a column of hot clouds rose 100 meters (yards) into the air. Officials set up a restricted area seven kilometers from the crater after the eruption, which was recorded at 12:12 p.m. (0512 GMT).
In order to assess the potential danger from the eruption of Mount Merapi, the public is advised to stop any activity in the potential danger zone, agency spokesman Abdul Muhri said in a statement. The country's disaster mitigation agency said there were no immediate reports of casualties.
Muhari said the ash also bothers nearby residents and they should be aware of the potential dangers of volcanic mudflows, especially if it rains near the volcano. An official at the Merapi Observatory said in a statement that at least eight villages near the volcano were affected by volcanic ash.
The volcano's major eruption in 2010 killed more than 300 people and evacuated around 280,000 residents. It was the most powerful eruption of Merapi since 1930, when about 1,300 people died. About 60 people died in an explosion in 1994.
,