meeri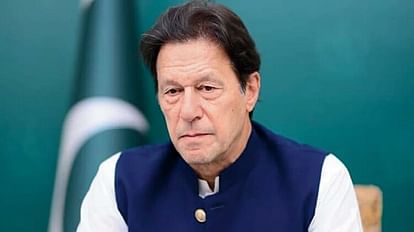 Imran Khan
– Photo: Social media
Expansion
Former Pakistani Prime Minister Imran Khan on Sunday attacked the caretaker government of Punjab for its double standards. He said she was giving her political rivals the freedom to hold public meetings and that her party was prevented from campaigning.
Speaking to the media on Sunday, he said, "The gang of miscreants are trying their best to delay the April 30 Punjab elections, they want to arrest me as they have filed 80 false cases against me." He said the government's double standards while banning the Pakistan Tehreek-e-Insaf (PTI) party allowed Maryam to hold rallies. There is a general perception in political circles that PMLN leader Maryam Nawaz is so critical of Supreme Court judges these days because she has the support of the most powerful man in the military establishment who openly supports the federal coalition and the Guardian. He said that Asif Zardari, Nawaz Sharif and Shehbaz Sharif are leading Pakistan towards total destruction. He urged people to join his movement to defeat anti-Pakistan and anti-people forces. Khan postponed his party's planned election rally in Lahore after Punjab's caretaker government banned public gatherings in the provincial capital.
Section-144 was imposed with the assurance of the cricket league
Imran Khan announced in a televised address on Saturday that he will lead an election campaign rally in Lahore on Sunday. He urged his supporters and workers to raise their voice against the alleged police brutality against PTI. According to media reports, soon after the former prime minister's announcement, the local administration imposed Section 144 in the provincial capital and banned public gatherings due to security concerns over the Pakistan Super League (PSL) cricket match in the city. On the other hand, former Prime Minister Imran contacted Election Commission offices and courts against the government's move and demanded that Article 144 be declared invalid.
Rally postponed
However, later Imran Khan postponed the rally. He urged his workers not to fall into this trap. He gave information about this through a tweet. He said that section 144 was illegally imposed to stop PTI's election campaign as all other public activities were going on in Lahore. Later, senior party leader Hamad Azhar also confirmed the postponement of the rally. "We want peaceful elections and a peaceful transfer of power, and it is possible that the rally will take place tomorrow," he told reporters. However, caretaker Punjab Chief Minister Mohsin Naqvi said no restrictions have been imposed on political activities in the city. He tweeted, all political parties are free to campaign. Meanwhile, Chief Election Commissioner Sikandar Sultan Raja called a meeting to discuss the situation.
Police closed the roads leading to Zaman Park
Police have closed roads leading to Imran Khan's Zaman Park residence. A large police force was deployed in various directions. On Wednesday, a worker of Khan's party was killed outside his residence in Lahore.
,