meeri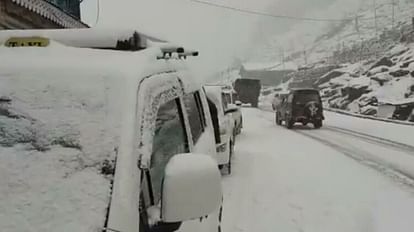 heavy snowfall in Sikkim
– Photo: Social media
Expansion
Around 900 tourists are stranded on the road due to heavy snowfall in Sikkim. All of them were returning to Gangtok from Nathu La and Tsomgo Lake on Saturday evening in 89 vehicles. The police together with the army started rescue operations. A police representative said that 15 vehicles have been safely evacuated so far. Tourists are stranded on the road 42 km from Gangtok. The snow is gradually clearing, and the tourists are evacuating. Some tourists may be accommodated in nearby army camps, the official said. Due to heavy snowfall in East Sikkim, the administration stopped issuing passes for Natula and Tsomgo Lake a few days ago.
Transgender Employment: Open Tea Stall For Trans at Guwahati Station
Meanwhile, in a historic initiative, Indian Railways has opened a first-of-its-kind trans tea stall at Guwahati station, which will be fully manned by members of the transgender community. Northeast Frontier Railway spokesperson Sabyasachi Dey said, "The decision to open Trans Tea Stalls has been taken to empower the community. NEFR has collaborated with All Assam Transgender Association for this initiative. The 'Trans Tea Stand' at platform number one at Guwahati station was inaugurated by Anshul Gupta, General Manager, NF Railway.
northeast news
,