meeri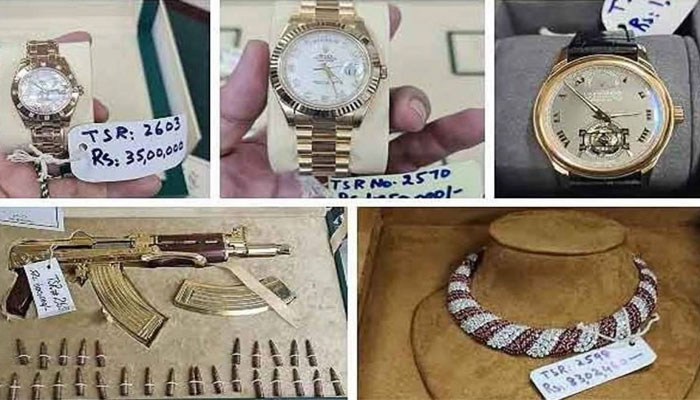 The federal government released a 21-year-old record of Tosha Khanna.
About 21 years of records of Tosha Khanna from 2002 to 2023 are uploaded on the Cabinet Division website.
A record of 466 pages related to Tosha Khanna has been uploaded to the website.
The names of former presidents, former prime ministers, ministers and government officials are among the recipients of gifts from Tosha Khanna.
Tosha Khanna's records of former President Pervez Musharraf, former Prime Ministers Shaukat Aziz, Yousuf Raza Geelani, Raja Pervez Ashraf, Nawaz Sharif and Imran Khan have been uploaded.
According to the document, Tosha Khanna's Imran Khan kept a ring worth Rs 87 lakh 5 thousand.
According to the document, former Prime Minister Imran Khan received a box of Oud wood and 2 perfumes worth Rs 5 lakh without payment.
According to the document, Imran Khan kept a valuable watch worth 15 lakhs, for which he paid only 2 lakh 94 thousand rupees.
According to the document, Imran Khan bought all the things from Tosha Khanna for 2 crores 1 lakh 78 thousand rupees.
.