meeri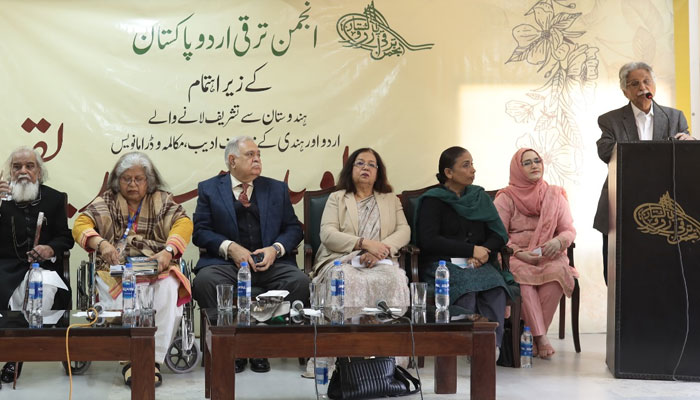 Indian writer, dialogue writer, journalist and cartoonist Javed Siddiqui said that Urdu is becoming popular among Hindi-reading youth in India.
In honor of Javed Siddiqui, a meeting was organized at the office of Anjuman-e-Traki Urdu-Pakistan, "Urdu Bagh".
Anjuman President Wajid Jawad presided over the event. Inaugural address was given by Syed Abid Rizvi and guest of honor was Ms. Zahida Hina, Dr. Fatima Hasan, Dr. Shadab Ehsani and Dr. Uzma Farman. While Dr Yasmin Faruqi performed the administrative duties.
Speaking on the occasion, Javed Siddiqui said that Urdu is becoming popular among the Hindi-reading youth of India who are not familiar with the Urdu script, but still there is a classical traditional flavor in these poems.
In response to a question about the future of Urdu, he said that we ourselves are the reason why Urdu is lagging behind us. If you know Urdu, teach Urdu to a person, that way a lamp will shine.
Javed Siddiqui further said that words have life, they should be used carefully. When you realize they have soul, you can't go wrong.
A number of famous literary and social personalities of the city participated in this occasion, including journalist and writer Mrs. Nazira Azam who came from America, writer Hisham from Canada, Dr. Aqeel Abbas Jafari, the well. Famous novelist Nahid Askari, Professor Naushaba, Siddiqui, Humira Attar and others participated.
.