meeri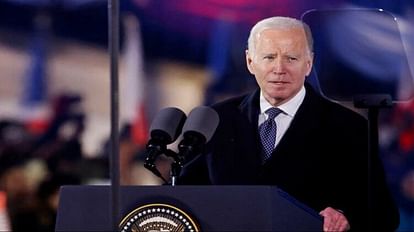 US President Joe Biden in Poland.
– Photo: Social media
Expansion
News of the collapse of US Signature Bank and the Silicon Valley bank made headlines around the world. Now in connection with this a big statement of the US President Joe Biden came out. Joe Biden tweeted on Sunday that tough action will be taken against those responsible for the collapse of the banks. Joe Biden gave big relief to both bank accounts and said people's money is safe.
Joe Biden tweeted that "Strong action will be taken against whoever is responsible for this mess. In parallel with this, monitoring and regulation of large banks will be strengthened so that we do not have to face such a situation again. The US President wrote in another tweet that we want to assure the American people and the American business world that their bank deposits are safe and that they can withdraw them whenever they need.
also read this – Silicon Valley Bank: How much will US bank bankruptcy affect India? knows everything
US financial institutions and the Treasury Department also issued a joint statement saying that people's money deposited in banks is safe and they can withdraw it. The Federal Reserve Department of America has announced that it will provide additional funding to help banks so that people do not face any problems. These steps are being taken to maintain public confidence in the nation's banking system and to keep the U.S. economy strong.
It is significant that US Treasury Secretary Janet Yellen recently said in a statement that the US government will not announce any package to get the Silicon Valley bank out of the crisis. The government is only helping bank account holders get their money back.
Explain that the failure of a Silicon Valley bank could shock the world's economies, including America's. SVB Bank provides banking facilities mostly to technology startups and companies. Including the big brands of the industry. It is said that when tech companies needed cash, they started withdrawing money from SVB Bank. This caused a loss to SVB Bank. The bank sold bonds to recover the loss, but this put the bank in more trouble.
,