Bhagyashree Rasal | Lipi | Updated: Sep 28, 2022, 7:43 PM
Malayalam Actress Groped: There has been an incident where actresses who went to promote their upcoming movie in a mall were touched in the wrong place by taking advantage of the crowd. A video of one of the actresses teaching a lesson to a misbehaving person has gone viral on social media.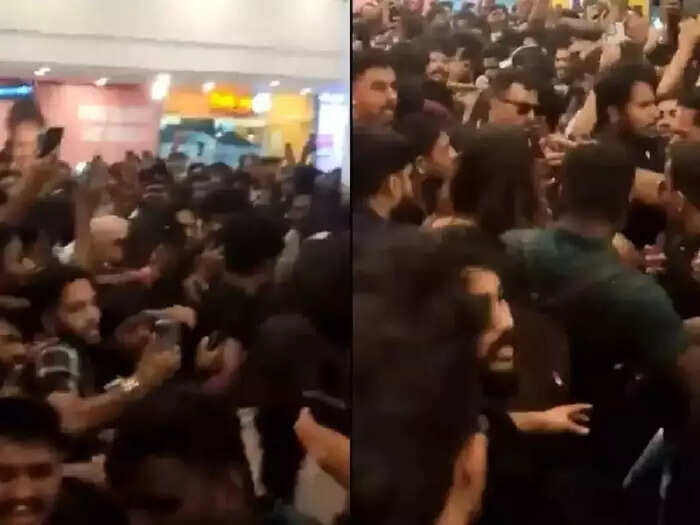 Highlights:
Misbehavior with Malayalam actresses
The actress shared the experience by posting on social media
The angry actress taught the abuser a lesson
Kozhikode: Malayalam actor Srinath Bhasi has been arrested by the Kerala Police for allegedly abusing a woman journalist. Now another shocking news has come out. Two famous actresses went to the mall to promote their upcoming movie. At that time, taking advantage of the crowd, some misbehaved with both of them. On this, one of the actresses took a fierce look and made a fight with the concerned person by playing under his ear. The video of that incident has gone viral on social media. The police have started an investigation in this matter.
The Malayalam actress has shared a post on Instagram detailing the incident that happened with her and her co-star. She has said that both of them went to Hilight Mall in Kozhikode to promote their upcoming film Saturday Night. At that time, taking advantage of the crowd, some misbehaved with them. The police are investigating the matter thoroughly.

What is the post?
In a post shared by the actress on her Instagram, the entire team of our upcoming film Saturday Night went to a mall in Calicut for promotion. Everything starts well, thanks to the people there. There was a lot of crowd at that time. The security guards were in a frenzy while restraining the crowd. After the show, my co-star and I were leaving. At that time some people misbehaved with my female co-star. But she could not do anything because of the crowd. After some time the same was done with me. So I got angry and taught him a lesson. Everyone has seen my reaction in a video that went viral on social media. This kind of incident should not happen to anyone. Strict action should be taken against those who commit such acts.'


Fans liked the bold Shanaya's traditional look, the video went viral
A lesson taught by the actress
This video of the actress has gone viral on social media. In it, she is seen killing a person. She also mentioned it in the post. There have been many controversies in Hilight Mall before. Tovino Thomas of Milan Murali fame was also going to the same mall for a promotion a few months back but was prevented from going there by his team.
Important articles
6 months before Mahavikas Aghadi government fall: Mahesh Manjrekar
Marathi News App: Do you also want to participate in the changes happening around you? Download the Citizen Reporter app and send reports.
.