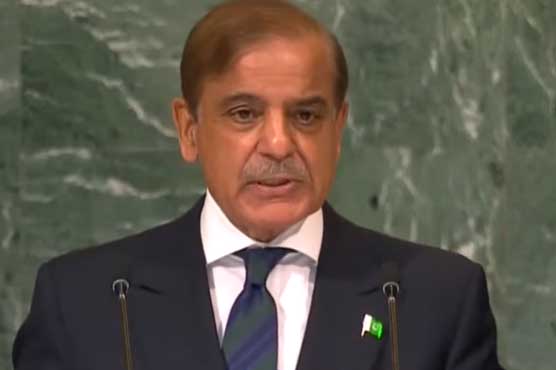 United Nations: (Webdesk) Prime Minister Shahbaz Sharif has said he has come to tell the world about the situation in Pakistan, a third of Pakistan is under water, people displaced due to natural disasters seek a dry place to words can express the shock we are going through. The international community must help.
At the 77th session of the United Nations General Assembly, the Prime Minister addressed the verses of the Holy Quran.
The Prime Minister said I am here to tell the story of Pakistan, my heart and mind are not ready to leave the memory of the homeland, I still feel like I am visiting a flood-stricken Sindh or Punjab. shock what we are going through. I have come here to tell the gravity of the disasters caused by the climate catastrophes, which flooded a third of Pakistan, 40 days and 40 nights of severe flooding broke the climate records of centuries, we are dealing with these disasters etc. There is awareness about how to deal with it, even today most of Pakistan is under water.
Shahbaz Sharif continued his speech, saying that as a result of climate change, 33.3 million people, including children and women, face health risks, 650,000 pregnant women are forced to live in tents, more than 1,500 people have died. People have died, including 400. children, people are suffering from malnutrition. People displaced by the floods are looking for a dry place to pitch their tents, condolences to the victims and their families. Those who have suffered losses, their work has been taken away for a long time . According to preliminary estimates, 13,000 km of roads and more than 1 million homes were destroyed and another 1 million partially damaged, while 370 bridges were swept away. The devastating floods killed 10 lakh cattle, destroyed 40 lakh hectares of crops, the devastation is unimaginable.
He said Pakistan has no examples of the dark and destructive effects of global warming, no words can express the shock we are suffering. Life in Pakistan has changed forever, I have visited every disaster area. The people of Pakistan ask why this disaster happened and what can and should be done, the undeniable fact is that what is happening is because of us. Our glaciers are melting rapidly, forest fires and heat waves have crossed 50 degrees and we are now experiencing an unusually deadly monsoon. Pakistan doesn't even have a percentage of the world's carbon that is sent into the atmosphere.
The Prime Minister said the gap between the funds we have and the needs is widening, we have spent our spending as much as possible helping the victims of the floods, my question is whether we will be left alone in this crisis, for which we are not responsible, rescue and relief operations are underway in the flood-affected areas. We help affected women through the Benazir Income Support Program, a program launched in the name of a former prime minister whose son is our foreign minister.
He said extrajudicial killings are being carried out in occupied Kashmir, attempts are being made to change the population ratio in occupied Kashmir, so it will not be wrong to expect climate justice from the world, from all neighboring countries including India. relations, the resolution of the Kashmir issue is necessary for stable peace in the region, the peace process has been compromised by India's illegal unilateral actions in occupied Kashmir, New Delhi took the illegal actions of August 5 in occupied Kashmir, India It must be understood that war is not an option.
The prime minister said it is necessary to divert attention from the problems of the 20th century and focus on the problems of the 21st century, otherwise there will be no country left to wage wars. Peace in South Asia depends on the resolution of the occupied Jammu and Kashmir, India's violence against Kashmiris has made Kashmir the largest military area in the world, India makes illegal changes to turn Muslim-majority Kashmir into a Hindu-majority .
He said the Kashmir issue will not be resolved until voting rights are guaranteed according to UN resolutions, we are neighbors and we have to decide whether we want to live with peace or war, war is not an option, only peaceful negotiations are the solution. They want peace with India, but they cannot do that without solving the Kashmir issue. We want peaceful relations with all neighboring countries, including India. The resolution of the Kashmir issue is necessary for stable peace in the region. India's illegal and unilateral actions in occupied Kashmir have affected the peace process. India must repeal 5 August illegal actions in occupied Kashmir Extrajudicial killings are committed in occupied Kashmir, Pakistan is committed to peace in the region, India must understand that both countries are nuclear powers and war is not an option.
Shahbaz Sharif said I am ready to sit down with India and discuss the Kashmir issue, ready to discuss, so that common resources can be used for the betterment of the people, and common resources can be used to solve environmental problems. to solve. We want long-term peace with India, long-term peace with India is only possible with a just solution to the Kashmir issue. It is necessary to increase the powers of the Security Council by adding 11 additional non-permanent members. Adding more permanent members to the Security Council will worsen the balance, not better.
Shahbaz Sharif said Pakistan would like to see peace in Afghanistan, that millions of Afghans are without any economy, that the isolation of the Afghan government will increase the problems, that we must avoid another civil war and refugee crisis. Terrorist groups from Afghanistan are a threat to Pakistan, all terrorist groups must be permanently tackled, the international community must view Afghanistan with a humanitarian eye. Pakistan has made unprecedented sacrifices to eradicate terrorism. Pakistan has been a victim of terrorism for two decades, 80 thousand lives have been sacrificed, the world will have to work to stop terrorism and drug trafficking. Our military has broken the backbone of terrorism with the help of the people, we are also determined to end cross-border terrorism.
The Prime Minister said Islamophobia is a global trend, attitudes towards Muslims have intensified since 9/11, the United Nations should ensure the implementation of the adopted resolution on Islamophobia. Pakistan condemns terrorism in every difficulty and situation because terrorism has no religion.
Shahbaz Sharif said we demand that Israel stop the atrocities against Palestinians.